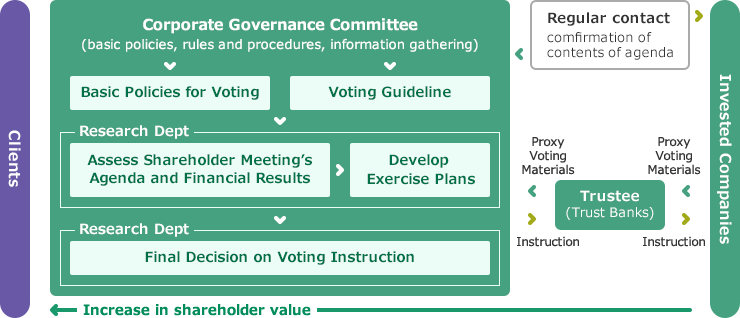 1. Corporate Governance and Proxy Voting
We have established a Corporate Governance Committee to assess invested companies' implementation of corporate governance, to establish policies for proxy voting, process and structure, and to ensure compliance with relevant laws and regulations.
We are committed to its corporate governance responsibilities and places a priority on regular contact with invested companies to convey our policies and opinions as a shareholder and investor. Besides day-to-day contact, we regard proxy voting as another important way of expressing our opinions.
Through these activities, we encourage our invested companies to promote management with transparency and respect for shareholders value, which, in turn, leads to improvement in investment returns.
2. Pursuing high level of Professionalism
Proxy voting policy and guidelines are determined in consultation with the ESG Committee. Each agenda item is examined closely from the perspectives of shareholder value enhancement. And the proxy voting results are reported to the ESG Committee.