Integration of ESG evaluation
We believe that Non-financial information, an important part of which is comprised of ESG factors, is essential for the quality of long-term earnings projection
NAM integrates ESG evaluation into the investment process to further improve the precision of our projection, leading to better performance in the long-term
Integration of ESG evaluation into investment process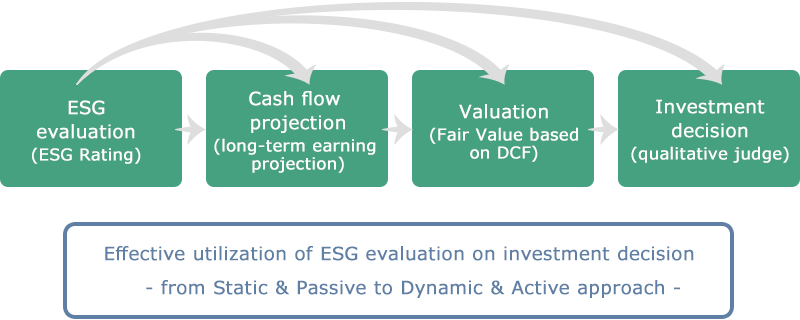 Features of ESG initiatives at NAM
Experienced and Established Approach for ESG Investment

ESG evaluation has been integrated into NAM's investment process since 2008.

Evaluation puts focus on how corporates' efforts on EGS issues enhance shareholder value.

ESG Evaluation by 20+ Analysts through 3500+ Interviews

Maximized synergy of research by combining corporate analysis and ESG evaluation.

Established know-how to integrate ESG evaluation into investment decision making through a long history of refinements.

90% Coverage of ESG Evaluation & Rating by TOPIX market cap, approx. 500 names

Ratings are assigned to both sectoral and comprehensive evaluations on E・S・G.

Head of Corporate Governance is in charge as an anchor in quality control of ESG evaluation.
A+ in PRI annual assessment
Awarded an A+ rating* in four consecutive years for its overall approach to responsible investment (Strategy and Governance), as well as for three years in a row for its ESG incorporation in listed equity (Direct – listed Equity Incorporation) by Principles for Responsible Investment (PRI**). In addition, NAM has been newly awarded an A+ rating for engagement and proxy voting approach (Direct – Listed Equity Active Ownership) by the PRI.
*

The results are evaluated by 6-point scale (A+, A, B, C, D, and E), where A+ denotes the highest point.

**

The PRI, established in 2006, is a set of principles for institutional investors to incorporate environmental, social and corporate governance (ESG) issues in their investment analysis and decision-making process.